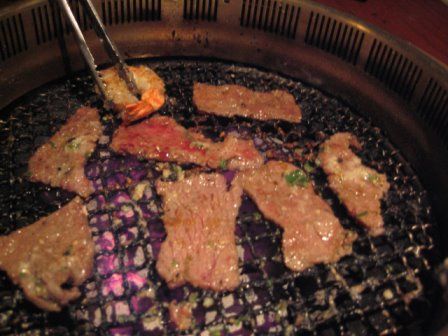 No secret Im a big fan of Korean BBQ as well as Japanese BBQ more commonly referred to as Yakiniku..The wife found a Yakiniku chain that has various locals around the southland as well as Japan and Hawaii that had recently opened in Huntington Beach called Gyu Kaku. We finally got a chance to leave the Kids with the grandparents for a couple of hours and visit for ourselves.
Its got a very upscale/hip decor and vibe to it. I don't normally give two rips about decor but I do like the darker restaurants and this did have darker type feel to it. The location had no bar or waiting area/lounge which probably is a moot point since I wouldn't be able to hang there anyhow.
This is the type of place where the middle of the table has a gas grill and you do all of your own cooking which is always great fun. They also have a happy hour which is a very cost effective way to enjoy all of the benefits without racking up a big tab. We started off with a couple of Kirin drafts which were only 2 bucks at Happy Hour prices. Their Food Item Happy Hour Menu rotates depending on the night of the week. Last Night was Liver, Japanese Pork Sausage, and something Called Ponzu Rosu which I later determined to be sliced Ribeye. I was tempted to order one of everything but the wife said there was no way she would eat the Liver. Instead of the liver we went with something a bit more tame in the form of thin sliced Beef Tongue along with the Sausage and Rosu.
I should mention as well that each place setting comes with a ceramic dish with 4 different areas-1 area for each of the tables 3 sauces and one to squeeze fresh lemon juice into. The Tongue dish also gets served with a small bowl of sesame oil and salt. The wife mentioned that traditionally Tongue is always the first dish to order at Yakiniku but when pressed as to why she admitted she didn't know but speculated maybe it had to do with a fresh clean grill as opposed to later in the meal when bits of meat and fat tend to muck the grill up a bit. Truth be told even after the meal the grill was pretty clean but I suspect that has to do with the quality of the meat more then anything else.
Anyhow, this would not be my first time at having tongue and it always surprises me how good it is. Its thin sliced and appears to look a bit like Salami if I was pressed to make a comparison. As for the taste though you would never know it was tongue and actually tastes like a high quality cut of beef not all too different then Skirt Steak. Dipped into the sesame oil and with the squeeze of lemon its an amazing combination of flavor/texture. At this point the waiter brought our next course of Ponzu Rosu and Japanese Pork Sausage.
The Ponzu Rose was this medium/thin sliced Rib Eye that had a wonderful look to it. Red and slightly marbled it had a wonderful smell on the grill and even better taste. As it was the Happy Hour the ½ portion only cost about 3 buck if memory serves. Well worth the price and more I say! I tried it in all 3 of the dipping sauces-which was a sweet BBQ(of course their version of sweet BBQ is a far cry from the corn syrup laden candy that passes for BBQ at most places), another ponzu sauce, and a spicy soy sauce-that really wasn't all that spicy comparatively speaking.
The pork sausage was also served with mustard-not some type of fancy mustard or Dijon mustard or white wine mustard but just your regular type mustard. The sausage itself was delicious but when contrasted with the tongue and the Rosu it was simply sausage. Once again in any other setting it would have been amazing and rated super high but the other items were so good it kind of made the sausage pale.
Almost forgot to mention we also ordered some Japanese Pickled Appetizers that served as a nice contrast between the heartiness of the beef. Basically it was some lightly marinated rice vinegar pickles, some type of spinach, bean sprouts, and what appeared to be bamboo shoots. In this area some of the better class Korean BBQs probably throw out better side dishes/salads but thats a small qualm.
Our next two items we ordered was Kalbi Short Ribs and NakaOchi Cubed Kalbi w.Spicy Miso. The Kalbi was such a high grade quality of beef I literally could have order 15 or 20 and easily probably have eaten it all. What makes this place great is not only is the meat high grade stuff but each dipping sauce brings out a different characteristic of the meat. To give an idea just dipping the Kalbi in Lemon Juice alone made a great pairing with the Taro Sweet Sauce and the lemon serving as an interesting contrast. The Japanese BBQ sauce was very good as well but with this caliber of meat it was almost wasted. The Cubed Kalbi wasn't nearly as spicy as I would have though but the cubing/marbling of the beef was about as succulent as one could ever want. Its all about the marbling and these diced sized bites of meat were about as marbled as meat can get. These last two items were amazingly good-arguably some of the best beef Ive eaten.
We finished off with some Black Sesame Ice Cream that was very good as well. It tasted at times like toasted sesame(which you'd expect) but also had some coffee like overtones and it was a healthy serving to say the least.
Overall it was a wonderful place to dine and I mention to the wife many a times that evening if not for the fact we've got kids this would be a place I would go to on a monthly basis if not more. And with the Happy Hour Pricing the Tab came to about 55 bucks so certainly not a bank breaker by any means. Happy runs from 5pm to 6:30pm. as an FYI. The Website is GYU-KAKU - Japanese BBQ Dining == We Kandou it! ==. Has menu items, pics, and all the locations here in So Cal.